OLD DARTECH & WILMINGTONIAN
A NEWSLETTER FROM YOUR OLD SCHOOL
NUMBER 16 OCTOBER 2002
Trevor Rigg 1957 - 62
One of my most enduring memories of DTHS was the journey there and back; buses being infrequent and crowded, I very often got home not much before 6 p.m. Not only did school finish at ten past four [for some mysterious reason, those who left the "other way" via Leyton Cross left a full 15 minutes earlier] but there was then an invigorating run to Wilmington bus stop, the only occasion when I participated in sport with any relish, and then the queue and endless wait for a bus that wasn't already so crowded that it passed without even stopping. Bus-conductors, fresh from the brutality of the Korean war or Suez, imbued with heartless inhumanity to the lesser of their kind, rarely showed any forbearance towards we short-trousered wretches, who, despite our obvious piteous state and very cold red knees, were counted on meticulously until the magic number five-standing-only had been reached. To compound our misery, our travel passes were interpreted as strictly as legal documents. A pass to Orpington meant that far and no less. Buses to Crockenhill were twice as numerous as those to Orpington but to change at Crockenhill constituted a contravention of traffic regulations which was only rarely sanctioned.
Otherwise, the journey was not unpleasant, long enough to check your homework, or, in the case of Trevor Housago, long enough to write it from scratch on some occasions. I can still see him, fountain pen in fist and with a dexterity and deftness of hand that meant that his script was indistinguishable from work that I had painstakingly completed at home, composing or copying screeds of text, despite the bumps, pot-holes, bends and swerves that the bus inevitably had to negotiate - he knew them all too well. The favourite seat was the back-seat upstairs; getting this required either extraordinary luck or studied and persistent manoeuvring from less favoured positions forward. To sit there conferred on the proud occupant an importance and status that compensated somewhat for the otherwise inferiority of his position. Well, it was comfortable, had arm-rests but most importantly and bizarrely it was sought after!
The best day, though, was when, once fortnightly, we had woodwork! This was practically akin to being AWOL. First, the excitement of getting a special bus ticket from the school office, then leaving school at midday long before everyone else, and, on my part at least, going to a lesson I really enjoyed. If this wasn't enough, there was then the supreme pleasure of getting on a near empty bus in Dartford town centre and skipping the dreaded queue at Wilmington.
No wonder, that, come the infamous Autumn bus strike of 1957 which lasted several weeks, I was forced to adopt a more rigorous form of transportation, the bicycle, which, in turn, imposed other hardships on we hard-pressed students. We had text-books then, (imagine!), ring-binders, (several), and P.E. kit that was always subjected to military scrutiny. It was scarcely possible to fit all this into one bag, let alone then strap it to a two-wheeler. Anyone seeing me riding to school on P.E. days might have assumed that I was a young recruit minus his fatigues. Prevailing winds took me relatively effortlessly across the rolling Downs in the morning but the howling gales that met me on the way home on the [then] open stretch of land between Wilmington and Hextable would have crushed many a man of sterner stuff than me. My steed, a sturdy Sturmey Archer hub-gear Raleigh, was not built for getting me there and back quickly, in an age when light-weight alloys were reserved for sputniks not push-bikes .........
Who else, I wonder, remembers the hardships we endured then ............... ?
Philip Lowe - 1956-1958
My family moving to the Midlands meant I had to leave after a couple of years but I always remember Dartford Tech with a great deal of affection. So sorry to learn that "Maggie" Mountjoy has died. I am pleased to see so many names from my year on the database and would be pleased to hear from any of them - though since I was only there for two years most of them will have forgotten me !!
Gary Love - 1972-77
The news of Ivor Jenkins passing saddened me a great deal. For me, along with Mike Wesson, Maggie, Percy, Jesse James, Ivor was one of a band of teachers for whom there was almost universal respect from lower school pupils to the sixth formers. My father was the same age and attended the same primary school as Ivor. They were reacquainted during my time at the school and in particular on Saturday mornings when Ivor, almost without fail, turned out to referee one of the soccer games. Ironically, my two youngest daughters – twins, are in their first year at the girls school' up the hill', where Mike Wesson still fills in as a relief teacher from time to time. One evening, one of my daughters came home, and said Mike had announced during a lesson that he was writing an article on a dear friend he had recently lost. I assume that this was Mike's contribution that appeared in the latest newsletter. Make no mistake, Ivor was one of the best. He had the ability to make the lessons both productive and enjoyable and at the same time maintain a high level of discipline if anyone decided to get out of line. You didn't mess with the 'big fella'! I am sure if statistics were available, Ivor's track record in terms of success rate at GCSE, or in my day GCE's, would be very high indeed. He had a knack of creating an environment where most pupils wanted to learn and make a contribution to the lesson. This was also true of those teachers I mentioned earlier, although with Percy there was always the threat of the 'wack' that drove pupils on to greater and higher achievements!! Although Ivor was not officially part of the sporting staff he was always very keen to involve himself with the various School teams. I shall always remember him refereeing one very tense cup tie where the opposing team constantly refused to move their wall ten yards back from the kick. Ivor soon grew tired of this behavior and announced that he was applying rugby rules whereby the kick would be moved nearer the goal every time they argued. It didn't exactly endear him to the opposition prompting cry's of yet more protest about changing the rules but they soon complied once Ivor drew himself up to his full height and marched menacingly towards their wall. Incidentally, I think we still lost the tie!! A sad loss of a good kind hearted man and first rate teacher.
Alan Whiteland - 1953-56 (3-5Ag.)
Many greetings to all the old boys of '53, especially the Ag boys, from here in Ikaalinen, Finland where I have been living since 1995. Wow! You can't imagine how I felt at getting an e-mail from Dennis Wells, and being in touch with a fellow Dartford Tech man! The screen got quite misty reading the Newsletter No.15 where I saw John Tremain's name the one who gave me my nickname of Fred) and I have enjoyed immensely reading some of the previous ones especially 'down on the farm' by Roger Hodge and about the bottles of milk, I still drink quite a lot (skimmed of course). I had often thought about the old school (as one does as the years pass) but didn't know how to get in touch until I heard about Friends Reunited. Names I recall are Peter Tyrell, Douglas Barden, Giles Killick (head prefect in 1957?) and Roger Hodge, I must admit to recalling the surnames more easily than the firsts! One question for all the Ag boys: I seem to remember that we were supposed to go onto Wye College after leaving. Did anybody go?
For me, life at school had some relevance in later life. Even running all the way to and from the school to the bus stop bred in me a love of running, although now at my age that's a breathtaking luxury I can only afford sparingly, although I did a few Malawi half marathons in the mid '90's. In the Ag group we learnt quite a lot about what are now considered very trendy eco-friendly organically produced life styles, just a feeling mind you, don't ask for specifics! Don't forget our poultry were free range/deep litter, and the manure for the allotment? But the symbiosis of the garden pond from Daphnia to Crested Newt fascinated me then and now (I breed tadpoles in my old bath/water butt every year and my daughter has the mosquito larvae for her aquarium) and was a model for our wild planet.
Roger Hodge (Ag '53) reminded us of the egg candling (and I would add to this the instructions in sexing one day old chicks that Jack taught us) and eggs came to play a significant role in my early years at work and I recall being able to examine a tray of 30 in around 15 seconds when in my twenties. Many vaccines were/are made in the living egg embryo and I dealt with thousands of them. I also remember the physics of egg washing with the temperature 3 degrees above storage temperature, (was it 18ºC ?), to prevent absorption of disinfectant. I also remember travelling to school for feeding duties at the weekends by bike, which seemed like a tour de France at that tender age.
Do we all remember the eclipse of the sun in 1954? How we coated pieces of glass with carbon soot by holding them over a Bunsen burner with the air hole closed? I well remember one of the teachers (was it Mr Austin?), set up a frame with black cloth and a telescope poking through at the sun and many of us at a time could all watch the image on the floor outside the Physics/Biology block as the moon slowly moved across, very impressive. Now that was a physics demo.! We were sternly warned against looking through the telescope directly by the threat of instant blindness, but I did have a sneaking urge!.
It was a hot thirsty day,- and THAT reminds me of another story, of torment and torture: The water in the drinking fountains was perversely at very low pressure in the summer months, and with only one working unit for what seemed a thousand thirsty boys, some sort of rationing was needed. Two large prefects would stand either side enjoying their moment of ultimate power, and you got 5 seconds sucking time if you were lucky, followed by a cuff on the ear when your turn was over. I was often totally parched in the afternoons and I wonder why we didn't drink water from the hand basin taps.
Of course one of the most pleasantly memorable moments was of dear Maggie. No, not while teaching, but of the dancing lessons she gave! I remember her teaching the waltz to the chosen ones (us) and taking my turn to be gently clasped and transported nervously, but unfortunately briefly, all the way on the three steps to Heaven. It was partly thanks to her that I learnt to dance the old fashioned way, skills without which I would never have landed up in Finland with a Finnish wife, (a story too long and tangled for inclusion here but involved Vietnam and the Hash House Harriers running/drinking club).
If I may, I'll include a brief history of my working life (no, not at Wye College!). While at the Tech. I travelled from Chelsfield by train and the double decker 477 (upstairs back seats of course!) from Orpington station to Wilmington, collecting a few boys on the way (does anybody remember?). After leaving in '56 I worked at the Wellcome Res. Labs. Beckenham and did more GCE O levels and The Institute of Science Technology exams part time at Bromley Tech. (now Bromley College of Technology).
In 1965 I left Wellcome and embarked on a lifetime of overseas development aid work in Veterinary Diagnostics and Vaccine production, first with the UK ODA and then the FAO of United Nations. Starting for 5 years in Kenya I moved to the Middle East (Egypt and Lebanon), then Turkey (in 1973), Syria, Indonesia, Afghanistan, Vietnam (twice), before ending up in Botswana (1986) and then Malawi (as Vaccine Production Manager) where our two half Finnish children (now 13 and 12) were born. I was also a consultant in Manila, Swaziland, and Iraq (1982) where I may have inadvertently taught a few things I now wished I hadn't). I only came back to England for 2-3 weeks per year except in 1983 when I was a few months in Pirbright working on Foot and Mouth Disease and Rinderpest. The decision to settle in Finland was easy after all that travelling and I found myself at 60, (the retiring age from UN), and my technological expertise pretty much outdated! I now look after my young family and working wife, and muse about the good old days of yore while teaching a bit of science/nature orientated English to adult Finns! I have on the way learnt to cross country ski, and skate, although so far just watch enviously as my kids snowboard and jumping down the local slopes.
I don't often get to England but came in May 2002 for a very short visit!!! I could not fit in the reunion dinner which unfortunately clashed with a 40th wedding celebration, or to visit Roger Hodge. I have already given my details for the database via the web site and would be really interested in contacting anyone from my old AG class. Although I see that there are 5 names now, not bad for a class of 24 or so some 46 years ago. Having no e-mail at home I use my wife's office address. My thanks to Dennis again and I look forward to many trips down memory lane. Best regards,
Mark Hilsden - 1972-77
Thanks for your email regarding Colin Newbury. I didn't realise that he had passed away. For me he was the teacher that was most important. After listening to the horror stories read by Mr. Kingsford for three years during music lessons Mr. Newbury was a breath of fresh air for the last two years while at school.
He actually taught music and opened my eyes to pop and rock music as well as classical music. After leaving school I went on to study music and composition at Goldsmiths College and even wrote a few orchestral scores. Since then life has taken a few twists and turns and today I work as a freelance professional illustrator mainly concentrating on architectural illustration and even though John Daley was my form teacher, I didn't really learn from him and choose to study music during my third year, that much or was even that interested till I reached the grand age of thirty. Please keep up the good work and thank you again for your email and putting to rest any thoughts that I had about personally meeting him and thanking Colin for his advice.
Phil Eley - 1978-82
Well, where to start? I don't really know why I've picked now to write to this site, perhaps the sudden realisation that it will be 20 years since I left that has sparked the nostalgia in me. I've been aware of this news letter for some time and although not exactly excited about it, more casually interested, I've read every one Dennis Wells has been kind enough to pass on via my Mother. Reading one a while ago a letter from Angus Gilbert (classmate) seemed almost dissatisfied with his schoolday memories. I've personally kept in touch with two old school mates to the degree I would call them life long friends. Glen Wade and Matt King, both are doing very well for themselves as am I, and like me look back on our school days with great fondness. My memory seems only to contain the good times, even though age has managed to bring a degree of guilt never felt at the time. I vividly remember Angus loosing his luggage on that Brugge trip, as too Barry Wright (another contributer) the fastest if not the shortest rugby winger ever! After 20 years I suppose I should at least say "thank you Barry" for all those geography homeworks I copied and also to any of the teachers who tried against my best efforts to educate me.....SORRY!!! Age has given me the ability to look back at some of those teachers Mr Williams (physics), Sandy Message (TD) and of course Wally James our form teacher, the only one brave enough to take us off the honeymonster's hands, and appreciate that they DID give above and beyond and how woefully we appreciated it at the time. I can still see everybodies face (even if the names are fading) and would be interested to see what has become of my other classmates. I've run into Duncan Box and Jason Haskins, who like me, are happy getting on with life, neither making millions or living in the gutter. I wonder how much we have all changed? I myself haven't changed at all (I'm sure Glen & Matt would say) I'm older, WIDER but probably still just as irresponsible. My twin daughters providing, instead of a calming effect, an excuse to act even dafter than ever. Matt is now living in Hastings as a driving instructor, Glen is doing very well indeed working as an area manager for a global communications company. One thing this small sampling suggests is that we have all done wildly different things with our lives. Many I'm sure will have made use of the education we all recieved, many meandering to our current position. I also wonder if leaving in 1982, virtually the height of mass unemployment, has had any effect on the routes we have taken? Hopefully my continued reading of this newsletter will provide some interesting answers. Hopefully my classmates are all like myself 20 years older and still happy with the way things have turned out. Above all I hope many share with me in that they have some very pleasant memories to look back on. Phil :-) p.s Please DO NOT show this to an English teacher, its far too late to correct my English now!
Stan Frith 1954-1959
If headmaster L.V. 'Chalky' Wall were with us today, he would probably comment that what follows is "music to my ears" albeit not what I thought this idiot would aspire to in life
As all those of you who were in the 'B' stream during the 50's will unequivocally testify, my academic achievements while at Dartford Tech.were not worthy of comment. With the exception of sport, I found the whole experience uninspiring, de-motivating and in a nutshell… a bit of a waste of time really! I suppose I did have the ignominious honour of being the very first boy that 'Chalky' caned in the school but that was only because myself and Hemple were 'shopped' by McKenzie for letting off a firework, or so rumour has it! Other than sport, the only other positive memories I have of the school are the friendships…..Dave French, Adrian Hatley, Mike Mew, Pete Wright etc and the record club. In 1956, during the lunch breaks we formed a record club at the school and I distinctly remember a number of us pooling our meagre resources to buy such 50's greats as Why do fools fall in love by Frankie Lymon and the Teenagers, All Shook Up by Elvis Presley, Good Golly Miss Molly - Little Richard, Diana - Paul Anka, Great Balls of Fire - Jerry Lee Lewis and Cumberland Gap by Lonnie Donegan, just to name a few. Sad really to think that five years of my life at Wilmington Hall were best summed up by Tommy Steele's …..Singing the blues! (however, it was 1959 when I left and Craig Douglas did remind me I was Only sixteen with my whole life ahead of me). At that time Keith Richard my classmate, was learning to play guitar……if only he'd worked harder at his lessons he really could have gone places!!!
I suppose on leaving school in 1959 my parents must have been listening to 'Chalky' (and Connie Francis) because they all kept asking me the same question… Who's Sorry Now?
Had I not been prompted by my very first boss to go back and re-take those failed GCE's, I might still be truly sorry today. However, he encouraged me to go to Bromley College for a couple of years and hey-presto, a fistful of GCE's and the National Diploma in Business Studies to boot. It's what Helen Shapiro likened to Walkin' Back to Happiness, the year 1961.
Success at last – the one thing 'Chalky' Wall said would elude me for life. I was delighted, Perry Como referred to MagicMoments but Lord Rockingham's Hoots Mon probably said it better. So, armed with new found confidence, enthusiasm and a few academic credentials it really was then a case of answering Adam Faith's question What do you want?. I had always liked the idea of travel and Summer Holiday a big hit for Cliff that year helped conjure up a dream.
The dream then was to travel, so I joined the oil exploration arm of Texas Instruments as a trainee accountant, based in Croydon. We are now in 1965 and after a short time with TI, my boss asked me to go overseas. I suppose Go Now by the Moody Blues in that year was somewhat appropriate, as was Get Away by Georgie Fame. So in 1966 I found myself in North Africa working with exploration crews in the Sahara desert searching for oil. Funny place the desert, I suppose the Tremeloes came closest to describing it with Silence is Golden. It certainly did not fit Ahmen Corner's description If Paradise is half as nice because during our three year tour of duty there, we had the Seven Day War and also the military coup which put Ghadaffi in power…. a real bloodbath that never reached the world's newspapers because the army cut off all communication, airports etc for a month. It was a tough three years but earned me a promotion to Financial Controller and relocation to Singapore. Lee Marvin sang Wanderin' Star and I guess that was me! It was 1970 and I certainly was wandering (although 'star' is a bit OTT me thinks!)
I loved Singapore, a rare combination of tropical climate, Eastern culture, multi-racial harmony and a nightlife to die for. I think Dana summed it up with All kind of everything! Rugby, golf and chasing girls filled in all the hours we were not working. In 1972 T-Rex were telling us to Get it on and I did just that, getting married that year to Gillian, an English fashion model visiting her parents. In that same year Slade released Take me back 'ome but for us it was not home but to the company's head office in Dallas, Texas.
We spent six years in the States. In 1976 Johnny Mathis had a number one hit with A Child is Born, and so did we. Jason, our first son was born an American citizen in March 1976.
Having studied at SMU for three years, in 1979 I got a Masters Degree in Business Studies just to prove to ol' Chalky that I wasn't the stupid, half-baked ignoramus he always kept encouraging me to believe I was. When motivated to achieve, I actually did it……and with Honours!
In the same year that I graduated, I didn't exactly Get a message in a bottle from the Police, but I was asked by the top brass at TI to join an international cast and return to the UK and help turn around the semi-conductor plant in Bedford. The factory was losing money and if it could not be turned around, would be closed with the loss of 4000 jobs. Use it up and wear it out by Odyssey summed up how exhausted we all felt after three very tough years, but we succeeded in making the business profitable. We did it, and the company (like Abba) decreed The Winner Takes it all and the top team were offered the choice of some very good jobs worldwide. So, in 1981 I became Vice-President of our European operation head-quartered in Nice where I spent five very enjoyable years (In 1980 by the way, my second son Rory was born.)
My European VP role in Nice necessitated constant travel all over Europe and I became a real nomad. I remember in 1983 Paul Young singing Wherever I lay my hat that's my home and I knew exactly what he meant. In 1985 John Travolta and Olivia Newton-John were singing up a storm with You're the one that I want when coincidentally I was pursued by Mohamed Al Fayed to join the Board of his recently acquired House of Fraser Group. In that year I'm your Man by Wham was top of the charts, and with a 200% salary increase on offer to make the move, I guess there was no doubt in my mind, I was their man!
I have to say it was not the easiest five years of my life working for the Fayeds, but I did get to meet a lot of interesting 'shoppers' The Queen, Prince Charles, Princess Diana, Duchess of York, Pres. Chirac, Liz Taylor, Joan Collins, Charlton Heston, Sean Connery, Michael Cain, Cliff Richard, Joanna Lumley, Sir Richard Attenborough, Jason Donovan, Kylie etc etc. All you needed was the key to the VIP toilets (just kidding!). I was decidedly under whelmed by them all and cannot understand why we are such a star struck nation. Anyway, the Monty Python team were crooning Always look on the bright side of life, so that's what I did.
In 1991 Should I stay or should I go was a hit for Clash, and it was very timely. After a major falling out with Fayed, I took the helm at Bunzl and was lucky enough to manage profits up by 300% in two years, which then resulted in my being invited in 1993 to join the Board, pull together a team and try to turn around Gateway Foodmarkets. Everything changes by Take That and Things can only get better by D Ream were very appropriate songs from 1994.
As the Americans would say 'we busted our balls' for four years, turned profits around from zero in '93 to £125 million three years later, and floated the company on the stock market. I left on flotation and despite a lot of lucrative offers, wanted to get away from Corporate life and re-charge my batteries.
In 1996 I officially retired – bruised, knackered and in need of a rest, but with a few ruples in my pocket with which to enjoy life. Unfortunately my retirement lasted all of six months before I got itchy feet and started up several ventures; a consultancy business, a property company, two golf courses and a serviced office company. Was I a workaholic? Maybe the record of the year I believe I can fly by R Kelly epitomised my state of mind, I knew I had a lot of energy and a wealth of experience, so why not put it to good use?
I play a mean game of golf and do follow Bath Rugby FC, England and the Lyons rugby teams wherever they play. In the last few years I regrettably got divorced after 26 years of marriage, but have found a new lady.
I expect 'Chalky' is turning in his grave, as are all those sceptics who wrote such nice things in my school reports; Percy Black ("you have frittered away any chance of success you may have had"), Aitkins ("you have the concentration span of an ant"), Amess ("a great disappointment, your years of frivolity will cost you dearly"), Austin ("although you may intend to do well, the proximity of hard work is still repugnant"), Bates ("Work satisfactory, conduct exhibitionist")……..and last but by no means least Mountjoy ("Oral work in need of improvement"). From 1953 to 2002 she was the only woman who ever complained about my oral work !
In summary, it has been a good life. Recent records like Breathless by Coors or Life is a rollercoaster by Ronan Keating, both released in 2000 perhaps come closest to describing it all, although 'Chalky' would probably choose Against all odds by Mariah Carey and Westlife. As for me….provided it's not Help the aged by Pulp, I do not mind!
Letter to the Editor OD & WA Newsletter 16
Sir, As the GIRL who dared to write an article for your BOYS' newsletter, (No. 14) I cannot let this slur, this calumny against my gender go undefended. I refer of course to the letter from 'Percy Flage' (No 15). Oh Percy dear, with a name like yours, is it any wonder you're such an old curmudgeon? But the OED provides the clue doesn't it Percy? Percy Flage? – Humbug. You don't fool me Percy*.
Yet I digress - as one of those GIRLS from whom your parents tried to protect you during your tender years, methinks I espy a scintilla of regret peeping through your apoplectic prose. Jealous Percy? You are aren't you? Just have a read of my article again, if you can bear it, and then turn to Frank Pearson's article.
According to Frank Pearson ('The Old Canteen' Newsletter 15) it would seem that Bob Crighton was something of a lothario. (Not sure I like that plural Frank, as in, 'scored with the ladies' but I'll let it go…. for now) Crighton a cherub? Perleeease. As for his football skills, be careful you don't ignite the ire of the rest of the team; he was more often in goal than a striker. He was even ticked off one Saturday game when I turned up and draped myself round the goalposts thus putting him off and nearly letting the other team score. I was told to leave the pitch by the irate teacher in charge. Outrageous. Bet they wouldn't do that to 'Posh'.
So be careful Frank, your attempts to butter up the boss are looking decidedly transparent from here (Bob interviewed Frank and he now works in the same software company).
Re the English issue. True, I used 'presently' when I could have used 'currently' but I was in that sort of mood Frank. Know what I mean? - When the mind says, 'Oh hang it all, I'll just write some old rubbish and let it go.' We've all done it.
And now back to dear old 'Percy'. The laugh of course is that if you're reading this then I'll have done it again. I'll have inveigled myself onto your BOYS' newsletter and annoyed you. Oh and by the way, do try to improve your spelling old chap; there is a difference between role and roll.
Finally, 'Sam' Austin and his comment on my use of 'mischievous hyperbole'. The class of 56-61/63 ish, I can assure you, the same 'august body of gentlemen' as always after their impeccable behaviour (with one notable exception!) at the Annual Reunion Dinner on May 11th. Well I certainly enjoyed myself!
Yours, Mary Orme (GIRL)
NB: * 'Per-si-flage' (n), light teasing banter – frivolous conversation style or treatment; friendly teasing. [C18; via French from persifler, to tease.] OK Percy, Impressed? Pity you didn't reveal your identity on May 11th . Another time perhaps.
Roy Carter 1938 - 1940
I see in the Feb 02 Newsletter that a young shaver is on about a girl writing an article, so what's wrong in that. When I entered Dartech, Essex Road in 1938 girls were pupils there.
They did a Commercial Course, while we did the Technical. We did not mix class wise, but passed on the stairs at the change of periods. The first two periods on Friday were in the Gymnasium in Lowfield Street. The girls gym was up on the first floor, and the boys on the ground floor. The object of the exercise was to see who could creep up the stairs to the girls gym. No one ever made it. Today we would call it radar, but in those days masters and mistresses had eyes in their 'bums', but boys creeping up very often passed a girl creeping down, so honours were even. When the war broke out in 1939 the girls were moved out and I think they went to the Girls Tech. in Townley Road, Bexleyheath, and so we lost our bit of glamour.
One other thing is about the milk issue. Milk in my day cost one halfpenny (½d) old money per day, 2½d per week (approx 1p today). We did not get our ration, as we were to busy running back and forth between Essex Road and Lowfield Street. Some boys also paid School fees. Depending on your Fathers income, you paid fees on a sliding scale, some of us had a free Scholarship and did not pay. We also had to buy all text and exercise books, in fact we paid for everything.
They were good happy days until the War came along and we went away, but thats another story.
Les Carne 1955 - 1959
I was thinking back to my days at the tech. trying to remember names and put faces to the names and this is what I have come up with:- Keith Betts - he of the flying saucers & space travel (remember the "Willit" rocket we designed?) Chas Knott with his multi geared cycle, 32 if I remember rightly, Jerry Finch, car designer & goon impersonator supreme, ffitch (sorry can't remember first name, Dave I think, Joe Carr, School Captain 1959, Pickering, deputy Captain, Dennis Wells & the mystery of the masters bike at the top of the tree on the last day of term 1959?, and many others. It would be nice to hear from them again particularly Keith & Chas.
Steven Preston 1964 - 1971
Now living in Peterborough with wife Sue, sons aged 20 and 19, and daughter 16. I'd love to hear from any of the old crowd - drop me a line with a little news and I'll do the same back. Grey hair with a bald spot appearing, the bags under my eyes are bigger than ever, and boy have I got fat - but otherwise I haven't changed a bit!!!
Alan (Fred) Whiteland 1953 - 1956
Come on all you Ag boys where are you? How many are still in Agriculture? Double digging in the canteen garden was good for the muscles, so Jack 'o bow legs might have said. I married a Finnish girl I met in vietnam and moved here in 1995. Not often in the UK I am coming in May for a couple of weeks so get in touch.
Norman J Vincett 1955-1960
May I send my best wishes for 11th, and trust that you all will have a great reunion (and AGM of course). Please pass on my regards to any ex pupils attending who might remember me from the 1955-1960 era. Equally, to any members of staff of the same period.
I have found the newsletter most interesting and amusing. I particularly liked the article by the "Technical Drawing" master, ("Sam" Austen), "he who used to sell cigarette cards"!
Hopefully, if I get my act together in time, I shall make the reunion next year. Thanks for all your efforts.
Robert John Stevens 1958-1963
Thank you for the newsletters you have been sending. It is wonderful to hear the recollections of all the old boys some of whom I knew and there are others I am not familiar with but we all share the same bond.
I am sorry that I shall miss the dinner especially as Len Hollingsworth is to be your Guest of Honour as he has been out to NZ to stay with a relative and we met for a good long chat.
Please remember me to him.
I have only just got on the net and this week visited the odwa web site through which I made contact with Barry Bower a good friend for many years. I was back in UK in January but a flying visit with little time for contacting any but the family.
I came to NZ in 1971, so more here than there now. I am a Quantity Surveyor, being an Associate of the Institute here in NZ and have worked in the building industry all my life. I am married with three children and a lovely wife and we live in Auckland. I was 58-63, going from there to Erith College to do a Diploma in Building followed by Professional exams, then love dragged me to the Antipodes but that as they say is another story.
My on - going passions are History and Genealogy, and collecting antique woodworking tools, sound like a boring old f— but I don't think I am. I will close now, hope things go well for Saturday and that lots of other boring old f— can be schoolboys again.
Giles (Barney) Taylor 1968-1970
I went to Dartford Tech in 1968 and left in 1970 aged 17 (I did two years of "O" levels, got three the first year and 5 the second and then left. Names I remember are Gerard Smith, Clive Tulip, "Nosher" Brown, Derek "Woody" Woodward, "Benno" Richardson, Steve Driscoll. I also remember this little guy who could beat everyone at cross country, but don't remember his name. There was a physics teacher there we knew as Percy (not to his face). I came to the School from a Grammar School in Tunbridge Wells and was surprised at how laid back things were, having had a much more serious homework regime. The Geography teacher was a youngish bloke who had a picture of Marianne Faithful on the wall. Anyway I moved around a fair bit after leaving School. I got married just last year (for the first time aged 48!) My wife and I had been friends for the previous 20 years. I am Sales Manager at a Small Builders Merchant and live in Birmingham. I was only at the School a short time and probably not well remembered. If anyone does remember me which is possibly not that likely, it would be nice to hear from them.
Tim Buckley 1983-1990
Somehow managed to find myself as Head Boy during my time at WGSB - I'm sure that the prefect strike and resulting lunchtime chaos was nothing to do with me - Mr Traves might remember it differently, but I'm sure it all started with a water fight and him going over on his . . .
Robert Alexander 1961-1966
Does anyone remember Narna? I'm now living on the Gold Coast in Australia, married with 3 boys: aged 22, 19 and 17. Thankfully they are doing a lot better than I did at Dartford Tech. It helps being married to a teacher. I still keep in touch with Graham Carter, and would like to thank him for registering my name on your mailing list. I look forward to receiving the newsletters. Must go now, Arsenal is just about to kick off!
Jackie Metcalfe (Staff) 1974-1978
It was very good to be back at 'Dartford tech' last night for the reunion dinner, to be shown over the school by Judith Hogg and to see what was still the same and how other things had changed too. Both my husband and I thoroughly enjoyed the occasion - an opportunity to meet up with some old staff, friends and pupils too who remembered me! I now teach in Bedford and have been in several schools since I left the tech in 1978 but have many fond memories of four great years spent there at the start of my teaching career. The first term was certainly challenging but I settled in and with the support of more senior colleagues, especially Mr. Black I soon felt quite at home. My thanks again to all responsible for a grand occasion last night!
Robert Jeffery 1983-1990
I recently received a copy of the ODWA newsletter, and inside, I was deeply saddened to hear about the death of Mr. Jenkins. He, like another favorite teacher of mine, Mr. Boxall, helped make my days at Wilmington Grammar School some of the happiest and most memorable of my life and both men will be sorely missed.
I always thought I'd be writing to this newsletter one day, and say how I was getting on, but what I'd like to do instead is share a few of my favorite recollections and memories of these two big fellas, big in size and big in heart.
Mr. Jenkins was my woodwork teacher and he helped me create no end of wooden marvels, a small trinket box, a tiled place mat, a dartboard case and yes, a coffee table that still sits proudly in my parents home. I also remember that Mr. Jenkins never stopped encouraging me in my efforts to play for the A side football team, and although I never got beyond playing as the regular A side substitute, his encouragement did help me receive a short lived stint (1 game in fact) as the B side captain. It meant a lot to me.
Now Mr. Boxall as my geography teacher always wrote on my report card, that my poor exam grades never matched the potential that he saw in me. Kind words in deed, so much so that I was more worried that I'd disappointed him than myself when I only managed a 'D' in my GCSE's. He like Mr. Jenkins really made you feel that they wanted to see you do well and that kind of teaching was priceless.
Fox and Geese on Friday nights was great fun, running around on the beams, climbing the ropes, and hanging off the walls. We'd bounce around on the Trampoline, play some badminton and then of course we'd have the Floor Hockey face off. Sticks were waving everywhere, reminiscent of "St. Trinians", and several bumps and bruises were created, but no concussions to my knowledge. The pure fact that they, and many other teachers gave up there time for us kids to enjoy ourselves outside of the school hours was always admirable and very much appreciated.
My best memories though of both these men are funnily enough, not those of time spent in school but instead, it is the 2 Thames trips and the 2 Mountaineering trips I spent with them during my summer holidays which will remain some of the best childhood adventures I ever had.
On the Thames trips, each morning we were awoken with the banging of pots and pans and the warning cry "wakey …. wakey". If this warning cry was not enough to rouse you from your sleep, you would find yourself hauled out, still within your sleeping bag, onto a wet deck on a cold misty morning. Not surprisingly, the following morning you had no trouble waking. Revenge though came at dinner, when a strategically placed lid on a bottle of Tomato Ketchup, meant that both Mr. Jenkins and Mr. Boxall were left with red faces. Each evening would be comprised of several games of flashlight tag, a bedtime snack, and then off to our sleeping bags.
The best thing however, about the whole trip was the cooperation of everyone aboard especially during the times, when we reached one of the many locks along the way. We pulled up, tied off, opened then closed the lock gates, let in or let out the water, the boat sinks or rises, then when the waters level we open the gates and jump back on. We were a well-oiled machine, except for the times of course when we miscalculated our jump to the river bank and ended up taking an early swim. But without knowing it, I was learning stuff, from both of them, and they made it seem so easy.
I also went on 2 Mountaineering trips with Mr. Boxall and Mr. Wesson and loved the challenge of it all. It was cold and wet, and often smelly, we hid inappropriate reading material under the stairs, we repelled down deep treacherous gorges, hiked for miles, camped out at night, and cooked soggy mash and peas on tiny stoves.
Most exciting of all though, was climbing Mt. Snowdon … twice!.
We hiked through steep mountain passes that fortunately for us were foggy, and that way we could never tell how far we might fall. But we all took it in our stride and just followed the shadow of the big fella up ahead, leading the way for all of us.
And that is the way I will remember them both, the big fellas up at the front, who you knew to listen to and to follow, because you could tell that they truly cared.
I just hope that they both realized, that we all truly cared too.
To all the teachers who remember me, … I remember you too, and I thank you.
Roy Warman 1942 - 1944
Thank you for Newsletter No. 15 together with the invitation to the Reunion in May.
As I am a Cricket Umpire on the Kent League Panel all of my Saturdays are taken up from the beginning of May until September, depending where I am officiating I may not get home until about 10pm. I must therefore decline the kind invitation, but wish you all a very pleasant and enjoyable evening.
With reference to Newsletter No. 6 - a letter from Rhoda, page 1 para 5, I still have my slide rule which I purchased from Rhoda over the counter. I think I paid 4/6d (22½p) (perhaps she gave me a discount).
Peter Hair was our form (T.1.B & T.2.B.) prefect. He always sat at the front of the class for history lessons with Miss Williams (later Mrs. Mountjoy), I wonder why?
Written on the wind. Derek Window. 1950-1953
I have just read my first newsletter from my old school. Interesting stuff. Blokes who became rocket scientists, General managers, Chairmen of the Board's. (Is that correct? I notice that someone was complaining about spelling and Grammar!) Well, I get the impression that everyone did very well!
The fact is; not everyone did well. Someone, namely me, did less than well. Mediocre is probably the right word.
The title of this little piece is actually very true. The electricity that is powering this computer comes from a 200watt wind generator that is whistling around on a pole on a hill just behind my shed. I cannot afford to have the electricity put on.
The computer I am using to write this came from a lightning strike that blew up my old one. Am I confusing you? I shall explain.
Last year I was given an old computer. 8meg of ram, 1 gig of hard drive. I would switch it on and then make a cup of tea while Windows 95 booted up. It was a little slow.
Then, three months ago, God took pity on me and sent a bolt of lightning that destroyed the poor old thing. On examining my Home and Contents Policy I found that I was eligible for a new one. So here I am, with 128meg of ram and 20 gig of hard drive.
I use the above story to illustrate that hard work and dedication are not always necessary to swan through life. Luck plays a big part.
For me, bad luck played its part when I was eleven years old and attending Westwood secondary school. I started to go deaf. Every morning I accompanied my mother to Shooters Hill Memorial Hospital where student doctors took turns in peering in my ears before squirting powder into them with a puffer. The powder then set like concrete and the deafness got worse. Also, the first four periods each morning at school comprised of Math's and English. These lessons were therefore, lost to me as I was on a no. 89 bus.
Prior to the onset of deafness I was a good student. Always up in the top three places.
So I drifted to the back of the class. No teacher bothered with the ones at the back. No questions were asked and I dreamed along whilst watching the groundsman through the window.
Three years passed. Then came the Technical exam. A written one. And dopey Derek passed without an oral. The Staff were horrified! 'Who did he cheat from?' The only other boy who passed without an oral was John Larkin, and he sat on the other side of the classroom.
Off I went to Dartford Tech. I started the first term in the 'A' class and the second term in the 'C' class. Mrs. Mountjoy was firmly of the opinion that I should be sent back to Westwood to let a more deserving boy have my place.
Mr. Black told my mother on open day that I would probably be a good student if I ever attended his class. He had completely failed to notice me hiding up the back behind the Bunsen burners. I spent so much time in the headmaster's office that I had my own chair. Nobody realized that I lip-read. They thought that my attentive stare was some sort of ploy.
I hung on for the three years and carefully destroyed all my school reports. Taking them to a prospective employer would be sure-fire way of getting chucked out into the street. So, making full use of the prestigious name of Dartford Technical College I obtained an apprenticeship at Frazer and Chalmers in Erith, as an Apprentice electrician.
Now, fifty years on, my wife and I have three children and ten grandchildren. I wear two hearing aids and own a 500 acre wildlife preserve. My nearest neighbor is two miles away and the cost of running electricity over the mountain that separates us would beggar the national debt. If the Sun comes out today, I shall make more electricity. Hopefully, enough to get on the net and send this.
PS. Frank Pearson, please don't knock spell checkers and grammar thingo's. Your old schoolmate would be lorst wivout em!
Michael Swanton - 1953-56
As old age advances I find myself living more and more in the past (the approach of Alzheimer's perhaps), and very much appreciate the existence of the Newsletter. Like everyone, I was particularly sorry to hear of Mrs Mountjoy's death. Each day I would catch the same service bus - she already there all the way from Belvedere - ensconced in the front seat and looking fixedly forwards to Leyton Cross, where she would be
met by Mr Wall's glossy black Hillman Minx. Having to walk down with a gaggle of pupils (however well-behaved) was clearly unthinkable. But there might have been an element of appeasement.
In the years following World War 2, until 1953, the one foreign language taught at DarTech was German. Then in the summer of '53 Mr Wall had announced to Mrs Mountjoy (headmasters didn't need to persuade anyone in those days) that next September German was to be replaced by French. Never having learned French, she spent a great deal of the summer holidays listening to a small number of French popular romantic songs on 78 rpm gramophone records - which she then inflicted on the new intake. I seem to remember the sound of Charles Aznavour. But whoever it was, he was certainly responsible for implanting a distinctive, embarrassingly Ealing- comedy-style French pronunciation in us all, which I retain to this day. Neither the vocabulary nor the grammar could have been much use to us - even if we could have understood what was being sung. This experiment was abandoned after a couple weeks, by when she had had time to prepare sheets of paper bearing set dialogues (a pedagogical method which goes back to Anglo-Saxon times, and probably beyond). Anyway, it seemed to work. Was it she, I wonder, who took us to Paris during the Easter holidays ? Half-a-century is a long time ago.
So far as I can remember, it was English language that was her major role. I recall the first lesson quite vividly - possibly because I found myself sitting in the front row (for the first and last time, anywhere, ever). Straightway she turned to look through the window of that elegant first-floor room in Wilmington Hall (originally the family's drawing-room I imagine), and said simply 'I want you to write an essay on the Tulip Tree". The words "tulip'' and "tree" scarcely seemed to go together, and very few of the class could see what she was looking at. More importantly, we had no idea what an 'essay' was (I'd certainly never done anything of the sort at Bexleyheath Secondary Modern). At least it kept us quiet for the remainder of the lesson. And then we were told to finish it for 'home-work' - another concept we hadn't come across, and which nobody bothered to explain. Parents had only a very hazy idea of what might be expected. But again it seemed to work. I must have learned a lot personally, inasmuch as eventually I was supposed to have become quite good at English.
Maths, on the other hand, was quite another matter. So much so, in fact, that my appalling incompetence seems to have become a topic of staff-room ridicule. When staff-room bets were laid on my chances of getting OL Maths, Mrs Mountjoy was the only one to back me. Maths and English Language were the only two OL's to be taken in our 2nd year. In the event, she - must have raked it in, because I actually passed Maths. I certainly shouldn't have done, since I still can't add up the change in my pocket! Ironically, however, I managed to fail OL English Language shamefully. To the present day I've never had the slightest faith in the academic reliability of any known exam procedure - let alone its social usefulness. Subsequent experience has done nothing to alter my opinion, and frankness about this has comforted (if sometimes puzzled) generations of my own students - although when announcing this to the assembled company at Wellington when giving the prizes there recently, the stage party seemed decidedly discomforted - which was the whole point (I should make it clear that I don't know how I got invited there in the first place !).
While on the topic of OL's, I wonder how many would remember Mr Downing - either a student- or supply-teacher recently graduated (from Cambridge was it ?) who came to teach history for a year. The only teacher, other than the headmaster, to arrive in a motor-car - his was a small grey van of a kind commonly driven by young men at that time, since road-tax for a commercial van was lower than that for a 'private' motor-car. Parked out of sight down towards the iron gates, it certainly did not detract from the splendid isolation of the headmaster's Hillman drawn up on the gravel outside the Hall porch. During the year he was there, Mr Downing taught us an OL course on 'Social and Economic History 1830-1885' - presumably reflecting an interest of his own (industrial development, the rise of trade-unions and so forth), and very valuable too. Apparently unique, the examination paper was to be set especially for DarTech by London University. Indeed, this fact was announced as much in the title - as we saw when Mr Wall instructed us to turn over the paper and begin. It took some 15 minutes or so before someone (not me) had the wit to put up his hand and point out that he couldn't in fact answer any of the questions. None of us could, but it simply didn't occur to us that it might be 'them' (adults, teachers, the 'system') and not us who hadn't understood. The paper that had been set especially for DarTech was 'Social and Economic History 1066 to 1914'. I can only imagine the panic outside the classroom door. Anyway, there was a telephone in the Secretary's office and a few minutes later the instruction came from London University Examination Department: "Do what you can." Well, by that time we had - which was nothing - and we slowly and awkwardly shambled out. I tried to keep a paper, but was very strictly told to leave it behind - and now I can quite see why ! Everyone passed I believe.
Downing anecdotes abound - including one in which a chance remark of his led an OL Eng. Lang. failure to become an Emeritus Professor of - Eng. Lang. - but that's another story.
9th ANNUAL REUNION DINNER / A.G.M.
Our ninth Annual General Meeting/Reunion Dinner was yet another success. The day started with the nostalgia tour, conducted by one of our younger members, Tony Martin (1983-89) and our Headmaster Brian Titterington, this was enjoyed by about thirty members.
The Annual General Meeting followed and the Committee was re-elected en-bloc, yet again, despite requests for new faces to join. The first Committee was formed on Monday, 20th March, 1995 and seven of those are still serving, with only three changes since. The Committee meets three or four times a year to plan and organise the Annual Dinner, so it is never to late for volunteers to come forward.
This years Dinner was once again well attended with our Guest of Honour, Len Hollingsworth (1960-99) and 120 members sitting down to a three-course Carvery meal, followed by Coffee.
Len is remembered not only for his long service to the School, but for his work outside of school hours. We are especially thankful to Len for his work in the early days of the formation of the Association in its present form.
In mentioning the formation of the present Association we will be welcoming John Daley (1963-92) as our Guest of Honour at the Tenth Annual Reunion Dinner. On retiring from the Staff of the School John expressed a wish to get an Old Boys Association going and thanks to his initial work with Brian Titterington (Headmaster), Len Hollingsworth, Terry Whifffen and Adrian Boyling, the Association exists as it does today with over 1300 contacts on the Database.
The Association in its present form was started with the Inaugral Dinner on 16th July, 1994, but there was an Old Boys Association back in the 50's, and an attempt was made to resurrect this through the Old Dartechs Football and Cricket teams in the mid 60's.
ARE YOU ON THE INTERNET
If you are on the Internet, have you advised us, or have you changed your server and not told us, visit the Association Website and complete the update form. Every Newsletter sent by email saves the Association Money. We also need your permission to give out or publish your details so if you haven't visited our site recently please do so as soon as possible.
www.odwa.co.uk
In Memorium
We have been advised that Andrew Cruickshank, 1992-97 has died following a road accident.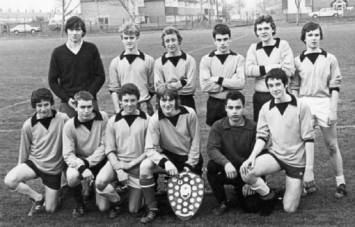 ODWA Photograph No. 98
Pictures from our files, When, What Trophy and Players names
Your answers please
ODWA Photograph No. 97
TENTH ANNUAL REUNION DINNER & A.G.M.
on Saturday, 10th May, 2003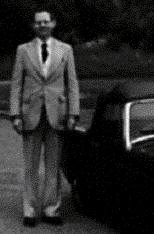 JOHN DALEY
(Member of Staff 1963-1992) will be our Guest of Honour.
There will be a Carvery Dinner and of course a Licensed Bar.
All ages are Welcome.
Booking Forms and final details will be enclosed with the next Newsletter
If you wish to find former School friends and get more of your own age group together do not hesitate to contact us, as we have the original Intake lists and facilities to make comprehensive searches.
Visit our Website at its new address and check out the names that we have, and if you know any members not listed give us their details
www.odwa.co.uk
new email address: oldboys@odwa.co.uk
Your next Newsletter is due to be published in February 2003
but to do this I need more articles and correspondence.
Comments with regard to your memories while at the School, experiences
at previous Reunions or details of your own life since leaving will be
greatly appreciated.
Please contact Dennis Wells,
3 Millbro, Victoria Hill Road, Hextable, Swanley, Kent BR8 7LF.
email: dennis.wells1@ntlworld.com